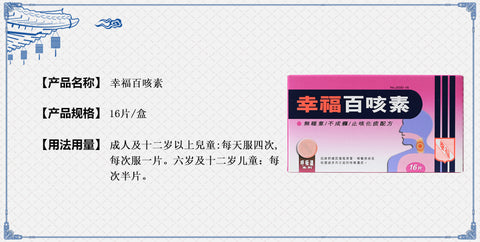 Hong Kong registration certificate number HK-49341
Indications: Relieve quickly..Cough, thick sputum, dry cough caused by colds and colds
Main ingredients:
The content of each piece:
Nacotine 25 mg p>
Use: Suppress cough
Bromhexine hydrochloride 8 mg
Use: Dissolve or decompose sputum to reduce the viscosity of sputum
Notes:
Do not take more than the specified dose.

If you are pregnant or breastfeeding, please consult your doctor before taking it.

People who are allergic to any ingredient of this medicine should not take it.

If the cough persists for more than 1 week or is accompanied by a high fever, please seek medical advice immediately.

Please keep this medicine out of the reach of children.